Greetings, I hope you enjoyed a beautiful weekend and are ready for a cooler week.
Pickford's has made arrangements to have products flown in fresh just about everyday starting today. With this in mind, please give me time to get all products off the floor, fillet all products, and put in the cooler. There will be NO more 1:00pm deliveries, unless something comes up that is out of my control!!
"Hawaiian Calamari Salad will be in tomorrow!"
 More #1 Male Jimmie's and some Soft Shell Whale Crabs will be coming in Thursday. Please get your preorders in by 2:00pm Tuesday afternoon!
If there is anything Pickford's can pre-order for you, please call 540-208-1881 or
email will@pickfordseafood.com.
Fantastic landings coming in Tuesday, and Wednesday:
King Salmon
Also known as chinook salmon, the mighty king can weigh well over a hundred pounds; its habitat ranges from California to Alaska. The meaty fish has a pure flavor and ample fat and
cooks beautifully over a charcoal fire.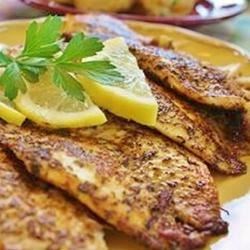 Red Grouper
Flavor Profile: Distinctive, yet mild. Like a cross between Bass and Halibut.
Texture Profile: Lean, moist, firm with large flakes
Harvest Location(s): Mid-Atlantic States down through the Gulf of Mexico and
both coasts of South America.
Sustainability: Fisheries are managed to prevent overfishing and rebuild overfished populations.
Farmed or Wild-Caught: Wild
Rockfish
Flavor Profile: Lean with a mild, sweet flavor with a nutty accent
Texture Profile: Medium Flake with Medium Firm Texture
Harvest Location(s): Most coming from the Bay
Sustainability: Ample population, By-catch, Hook and Line
Farmed or Wild-Caught: Wild
 Hawaiian Swordfish
A grilled swordfish should be simple. A little olive oil, lemon, salt, and herbs are
enough to dress up a good sword and be ready to throw on the grill.
Cook swordfish like you would a rare steak:
Use high heat to sear the outside, and let it stay a little rare in the middle.
Make sure to leave the skin on when you grill, but take it off to serve –the skin is rubbery,
but will keep the meat moist when cooking.
Cook approximately 5 minutes on one side. Flip, then cook 2-3 minutes (for an inch-thick steak) this uneven cook time is what allows for the center of the steak not overcook.
If grilling kabobs, precut swordfish into one inch cubes, assemble kabobs,
and cook for 2-3 minutes on each side.
While grilling is by far the most popular way to cook swordfish, it's not the only way. Because of the texture, it's excellent for chowders and stews because the fish won't dissolve.
The swordfish is a wonderful fish to eat and serve. It's moist and flavorful, with a slightly sweet taste. The firm and meaty texture allows the fish to be particularly rich and juicy. 
Arctic Char
Clean, Mild Flavor
 It's in the salmon family, but only lives in fresh water. The flavor is somewhere between trout and salmon. Very light and flaky, with an extremely delicate and light salmon flavor, derived from living in the river with salmon and eating salmon eggs for a living.
Pickford get's them wild from Alaska and Iceland
Texture Profile: Delicate
Harvest Location(s): Iceland
Farmed or Wild-Caught: Wild
"Coming Wednesday"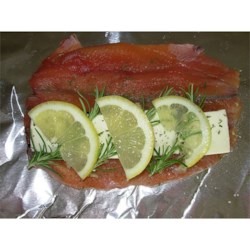 Snake River Trout
Flesh is tender, flaky and soft, the color ranging between white, pink and orange. When cooked, the meat will have a delicate flake and the color will be cream to white.
Whether baked, broiled, grilled, poached, sautéed, or smoked, Snake River Trout is delicious.  Bake at 400 degrees for 10 minutes per inch of thickness.
"Coming Wednesday"
Portuguese Sea Bass
Lubina's culinary popularity is attributed to its firm flesh that cooks well in virtually all preparations – whether served whole or off the bone. The absence of small bones makes its fillets easy to handle and serve, and to present the whole fish. And its sweet, mild flavor stands up well to even the most basic of seasonings. Served poached hot or cold, grilled or baked whole stuffed with sliced lemon, dill, and fennel, pan seared fillets, and even whole roasted with or without a salt crust.
"Coming Wednesday"
Fresh Water Unagi
Unagi is prepared through the same traditional methods that have been used for thousands of years and which bring out the bold, rich flavors of the dish. Once the eel has been filleted and deboned, it is grilled over an open flame which serves to melt off the layer of fat which lies under the skin. The eel is then steamed, drained of oil, and basted in a sweet eel sauce. The final and most important step is the second grilling, allowing the eel to absorb the flavors of the sauce.  Unagi is often served on a simple bed of rice or as sashimi. Unagi sushi is called unakyu, and pairs the richness of Unagi with the refreshing crunch of cucumber.
Marinated Sushi Baby Octopus
"Spanish"
It has long been a standard at sushi bars of course; and you have been able to find it at Spanish, Portuguese, Greek, and even some Italian restaurants for years, in salads, stews, or with potatoes or pasta. Now, however, you see dishes like octopus terrine, octopus confit, octopus risotto, octopus with pasta, and more. Then of course there's grilled octopus, which – since it was first popularized at Periyali about ten years ago – has become downright trendy. Sweetness of Scallop, with a nutty finish!
"Coming Wednesday"
Scottish Salmon
High oil content which covers your palate then turns buttery with a long clean finish!
"Fantastic with the Vermont Smoked Maple Syrup!"
New England Scallops
Chef's all over New England prize the delicate, Cape sea scallop for its exceptional delicious flavor and plumpness.  The day boat scallops are a true renowned delicacy.  No where else in the world can these clean, sweet, succulent scallops be found.
"Except at Pickford's!!"

Cod
Cod Fish is sometimes referred to as the Chicken of the Sea,
because of its white flaky meat and mild taste.

Pickford's Crab Cakes
Also available:
Wild Alaskan Smoked Salmon Spread
Calamari Salad
Cajun Crab Dip
Vermont Smoked Maple Syrup
Pickled Ginger
Wassabi Sauce
Smoked Louisiana Alligator Sausage
Louisiana Alligator Meat
Crawfish Tail Meat
Cajun Crawfish Boudin

Portwood Acres Cheese "100% Organic,  made with raw milk" 
Lobster Meat Knuckle and Claw
Andouille Sausage 
Oyster Knives
New England Scallops 
Texas Supreme Shrimp
Frog Legs
Smoked Salmon Lox's
Louisiana Dat-Dip Sauce
Beautiful!!
Thank you for your patronage. Hope to see you soon!
Will Pickford
Pickford's Fresh Seafood
540-208-1881
www.pickfordseafood.com