Greetings, I hope you enjoyed a beautiful weekend and are ready for another hot week!
Pickford is no longer receiving nasty reviews on Yelp from people living in CA, and other states. These people never visited my shop! If Crabs can crawl from Harrisonburg, VA, to CA, these people deserve to get sick! 
However, the negative postings are still there! If you enjoy shopping at Pickford's, please go to Yelp and share your experience shopping at Pickford's Fresh Seafood. This is the only way I can get ride of these negative reviews, and deserves to be number one again!
Pickford's has made arrangements to have products flown in fresh just about everyday starting today. With this in mind, please give me time to get all products off the floor, fillet all products, and put in the cooler. There will be NO more 1:00pm deliveries, unless something comes up that is out of my control!!
This coming Thursday, Pickford's is bringing in a surprise fish for Fathers Day!! I'm going to leave you hanging a couple of days before I announce my find!! 
Lou Boyle, Owner of "The Finest Edge" will be at my store this Wednesday, June 14th, to sharpen knives, scissors, lawn mower blades…ext! Mr. Boyle sharpened my knives 2 weeks ago, and there still deadly sharp. Please drop off everything you need sharpened Tuesday and Wednesday morning, no later than 10:30am. Mr Boyle will be working on site all day till the job is finished!! I will have pricing available for you to look over when you come in.
Wakame Salad is back at Pickford's
 More #1 Male Jimmie's will be coming in Thursday. Please get your preorders in by 2:00pm Tuesday afternoon!
If there is anything Pickford's can pre-order for you, please call 540-208-1881 or
email will@pickfordseafood.com.
Fantastic landings coming in Tuesday, and Thursday:
 Huge Alaskan Snow Crab Clusters
"On Sale Through Saturday"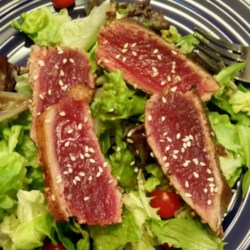 Hawaiian Big Eye Tuna
Flavor Profile: firm texture, very fatty, rich flavor
Fishing Technique: long line
Recommended Preparation: Bigeye tuna is one of the preferred species for the preparation for sashimi. With a high fat content, bigeye is also among the most desirable species for grilling. Its mild flavor adapts well to numerous applications.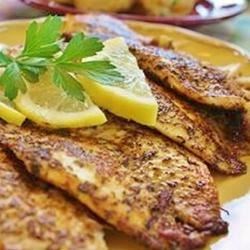 Red Grouper
Flavor Profile: Distinctive, yet mild. Like a cross between Bass and Halibut.
Texture Profile: Lean, moist, firm with large flakes
Harvest Location(s): Mid-Atlantic States down through the Gulf of Mexico and
both coasts of South America.
Sustainability: Fisheries are managed to prevent overfishing and rebuild overfished populations.
Farmed or Wild-Caught: Wild
Rockfish
Flavor Profile: Lean with a mild, sweet flavor with a nutty accent
Texture Profile: Medium Flake with Medium Firm Texture
Harvest Location(s): Most coming from the Bay
Sustainability: Ample population, By-catch, Hook and Line
Farmed or Wild-Caught: Wild
Stripped Marlin
"Nairagi"
Texture: Firm
Flavor: Mild
Suggested Preparations: Raw (sashimi, sushi, poke, ceviche), Broiled, Grilled, Sautéed, Smoked, Tempura
Nairagi is frequently used in raw fish. Ideal for grilling. It can also be used in cold seafood dishes and salads. Also popular for gourmet smoked fish products.
Hawaiian Wahoo
"ONO"
This well-known Pacific fish is deliciously cooked in a variety of ways. Ono feed near the surface in 30 to 50 fathoms along coastal ledges and are occasionally caught in open deep water. The vast majority of Ono are caught in Hawaiian waters. The fillets of the Ono are white and firm. Ono is delicious saut'ed, baked, broiled or fried.
Fresh Water Unagi
Unagi is prepared through the same traditional methods that have been used for thousands of years and which bring out the bold, rich flavors of the dish. Once the eel has been filleted and deboned, it is grilled over an open flame which serves to melt off the layer of fat which lies under the skin. The eel is then steamed, drained of oil, and basted in a sweet eel sauce. The final and most important step is the second grilling, allowing the eel to absorb the flavors of the sauce.  Unagi is often served on a simple bed of rice or as sashimi. Unagi sushi is called unakyu, and pairs the richness of Unagi with the refreshing crunch of cucumber.
Marinated Sushi Baby Octopus
"Spanish"
It has long been a standard at sushi bars of course; and you have been able to find it at Spanish, Portuguese, Greek, and even some Italian restaurants for years, in salads, stews, or with potatoes or pasta. Now, however, you see dishes like octopus terrine, octopus confit, octopus risotto, octopus with pasta, and more. Then of course there's grilled octopus, which – since it was first popularized at Periyali about ten years ago – has become downright trendy. Sweetness of Scallop, with a nutty finish!
"Coming Wednesday"
Scottish Salmon
High oil content which covers your palate then turns buttery with a long clean finish!
"Fantastic with the Vermont Smoked Maple Syrup!"
New England Scallops
Chef's all over New England prize the delicate, Cape sea scallop for its exceptional delicious flavor and plumpness.  The day boat scallops are a true renowned delicacy.  No where else in the world can these clean, sweet, succulent scallops be found.
"Except at Pickford's!!"

Cod
Cod Fish is sometimes referred to as the Chicken of the Sea,
because of its white flaky meat and mild taste.

Pickford's Crab Cakes
Also available:
Wild Alaskan Smoked Salmon Spread
Calamari Salad
Cajun Crab Dip
Vermont Smoked Maple Syrup
Pickled Ginger
Wassabi Sauce
Smoked Louisiana Alligator Sausage
Louisiana Alligator Meat
Crawfish Tail Meat
Cajun Crawfish Boudin

Portwood Acres Cheese "100% Organic,  made with raw milk" 
Lobster Meat Knuckle and Claw
Andouille Sausage 
Oyster Knives
New England Scallops 
Texas Supreme Shrimp
Frog Legs
Smoked Salmon Lox's
Louisiana Dat-Dip Sauce
Beautiful!!
Thank you for your patronage. Hope to see you soon!
Will Pickford
Pickford's Fresh Seafood
540-208-1881
www.pickfordseafood.com